HQ Building Project
In December 2016/January 2017 our scout HQ was structurally condemned.  Whilst we knew that it had a limited lifespan, we had hoped that we had another year or two to finish raising funds for our New HQ project.
So, all hands to the deck – a local architect was found to help us create a new HQ that was both practical and robust as well as being warm, light, bright & welcoming.  We have an amazing location – and wanted to ensure that our indoor space could integrate with our outdoor area.
We have raised the magnificent sum of £260,000 by our own endeavours. However, it became apparent that rising construction costs and our site challenges meant that we would be facing a shortfall in funds to complete the final phase of the project and be able to move in. Working alongside our architect and contractor, we have devised a phased building programme that works with our budget. This also allows us valuable time to source some additional funding from grant schemes, sponsorship and other fundraising opportunities to be able to finish the project and move in.
So we looking into all opportunities – grants, sponsorship, gifts-in-kind, jumble sales etc.  to help us bridge this gap.
The scout group has been active in Danbury since 1921 – we're now a thriving mixed youth group with over 100 families and a waiting list.
See below for the progress made so far: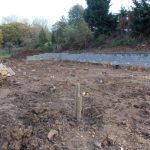 Wall completed!